Media Room
David Wood, PCC - authority on:
- Life and Business Coaching
- Working from anywhere in the world
- Serving people while you sleep
(passive income)
"What do you get when you cross a leading life coach with a stand-up comedian? A dynamic and lively guest!"

TV Appearances & Video
(Download the free Real Player for some video)
See David Wood on CNN – Charter Local Edition on CNN Headlines News, May 11, 2010:
See David Wood on Sacramento & Co, April 5, 2010:
See David Wood on The Aware Show, March, 2010:
'Insight Program' Interview with David
SBS (1.5 min)
'Single Girls' TV Show featuring David's coaching on Channel 9 (3 min)
Keynote Speech Clips Live (9 min)
'10 Min Showcase Interview' US TV Program Audition
Off the wall... David embarrasses himself enormously on Channel 9 in a kilt on 'Hey Hey It's Saturday' (1 min)
1 min Trailer: 'Never Work Again' speech
(Full speech available for the media on request)

Quick Time
Speaking to High School Students Part 1
Speaking to High School Students Part 2
Facts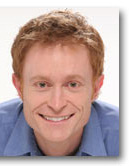 David Wood, PCC
Largest online list of coaches in the world, with 71,997 ezine subscribers in 91 countries
Member of the Transformational Leadership Council founded by Jack Canfield and John Grey
His book, "Get Paid For Who You Are - How to Share What You Know and Love Online, And Automate it to Free Up Your Time" was released in 2010
Coached by phone in 13 countries, for over 1,500 hours
Australian living in San Francisco
Helping coaches and other professionals around the world to grow their businesses
8 'how to' products shipped to 52 countries
15 coaching web sites
Professional Certifed Coach with the International Coach Federation based in Washington, D.C.
Coach, speaker, stand up comedian, hangglider pilot, snowboard instructor, and terrible singer
Coached on national television in Australia, and live on national radio on three continents
Currently holds #2 position on Google for 'life coaching', out of 51 million web sites.
Guest Lecturer Columbia University (Coaching), Associate Lecturer Macquarie University (Finance)
Former actuary and management consultant advising Fortune 50 companies based in New York (quit to sing in pubs).
Created free download for the public: 50 Power Questions
At his second speech in 6 years, the audience spent $389,000 in 15 minutes to invest in their further training.
David is available for phone interviews, and live appearances in the San Francisco area.
Sample Expert Topics
Sample Story Angles
From Fortune 100 to Bachelorette Cruises. Quit Your Corporate Job? David quit life as a Fortune 100 consulting actuary in New York, to play guitar and sing in pubs and parties and on TV, including a brief stint on a bachelorette cruise! He now helps other professionals to migrate from their corporate job to something they love, working from home, and even automating the process to free up their time.

Serve the World While You Sleep? Imagine waking up in the morning, checking your email, and finding 10 people paid for and downloaded your e-book overnight. You also have three testimonials from people in foreign countries telling you how your advice made a big difference in their lives. From gardening tips to 'how to stop your divorce', the information product market is booming. (Case studies available).

Your Life Experience is Valuable. Is it also Marketable?
Could you actually turn your life experience and hobbies into a business that supports you and your family? Or does it take a degree and a certification? Life & Business coach David Wood says there is always a group of people at least one step behind you in a given area. And they will pay for what you know. Perhaps you've survived a divorce? There's a valuable ebook. Have you ever been fired and bounced back? There's an inspirational CD. Have you gotten married? Raised kids? Lost a loved one? Traveled the world on a shoe string budget? People are often surprised when they dig deep and realize they have much to offer the world. It's not a complex process to turn that into a business involving say phone coaching, face to face coaching, running teleconference calls, or selling 'how to' ebooks and cds.

I'll take Four Freedoms Please. Too Much to Ask?
For over a decade the trend has been to take flexi-time, and work from home wherever possible. But a new breed of worker is emerging who works from anywhere in the world using nothing but a keyboard and a phone line. Further, many of them are finding that the internet can do most of their job for them, freeing up their time to spend with their family, travel the globe, start a charity, or just about anything you can dream. David Wood is teaching people how to create the Four Freedoms in their life: Emotional Freedom to do what you love and what impacts the world, Geographic Freedom to do it from anywhere, Financial Freedom so money isn't an issue, and Time Freedom so you can actually choose to work 1-2 days a week instead of 5, if you like.

75% of Small Businesses Fail at Marketing!

Have You Met Your Staff? Could Your Business Be Truly Virtual? (David didn't meet his #1 employee until after four years of service, and finally met Beth on stage in front of 1000 people (footage available). He has still not met his remaining two staff members.

Choice Between a Deadline and Your Anniversary Dinner? Have Both. On his relationship anniversary, from the restaurant dinner table, David Wood dialled into a teleconference. He welcomed the 200 participants from around the world, pressed play on a pre-recorded interview, and returned his attention to his dinner partner. That call produced $6,000 in revenue. The old paradigm of having to work 40-60 hours to make a living seems to be fading, as a new breed of worker emerges: the worker who creates a solution for a problem, and uses the telephone and internet to serve out the solutions, over and over again, while he's living his life.

Are You Globally Mobile? How to Work From a Thailand Phone Booth (David left Melbourne Australia for a 2 month around the world trip. However, when he got to New York he realized he didn't actually have to go home...ever. So he didn't. He has coached from the beach in Australia, and from a phone booth in Thailand (picture available on request.)

Are You Making a Difference? So many people are in the 9-5 grind are dulling their sharp edge by doing things they don't truly believe matter. What would your life be like if you did something you felt truly contributed to your community and the world? Is it possible to do what you love, and be well-paid? Thousands of people across the world are proving it's true, especially with the massive reach and low costs afforded by the internet.
'Must See' Information
for Producers & Journalists
David is available for phone interviews, and live appearances in the San Francisco area.
Contact Information:

Publicist: Beth Dargis, +1415 877 4701
Email: public A-T solutionbox.com